Processing, sorting and grading machines and lines for Chestnuts.
With Unitec technology and innovation, your business bears delicious fruit.
---
Automatic chestnut selection is now finally possible thanks to Chestnut Vision Unitec Technology which eliminates blemished or pest-damaged chestnuts without manual labor.
This solution has led to greatly reduced processing costs for operators who handle or produce chestnuts.
Innovation.
The innovative technology developed for this particular fruit is a world first.
Chestnut Vision Unitec Technology is the first system installed for automatic chestnut selection ensuring reliable, tangible results. Indeed, until the introduction of Chestnut Vision Unitec Technology, the task of spotting pest-damaged chestnuts, to be separated from healthy chestnuts and discarded, was a thankless job carried out entirely by personnel entrusted with this difficult and laborious task.
Technology.
We succeeded in designing and constructing an extremely innovative, compact machine with a high processing capacity (approx. 15-20 fruits per second per lane), which detects waste products and eliminates them automatically, with truly impressive results. Moreover, while the machine is carrying out quality selection, it can also perform product sorting, thus guaranteeing the market not only a premium quality product, but uniform size too.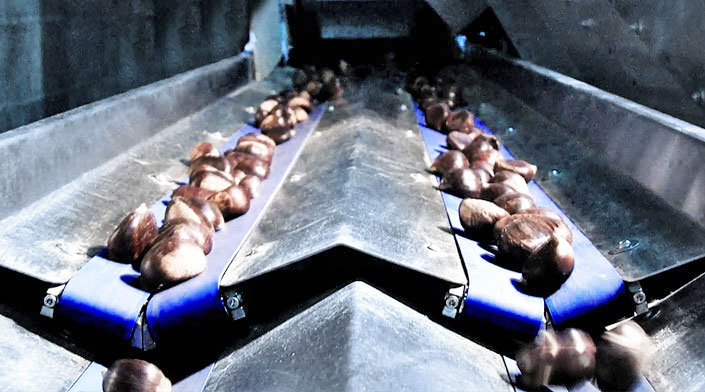 Top quality materials and low maintenance costs.
Our chestnut selection plant is constructed entirely of stainless steel, and the pneumatic discharge system has no moving parts. This guarantees low maintenance costs.
Discover Unitec solutions.
Get in touch with us.