Sorting, grading, packing machines and lines for Kiwifruit processing.
We give your business the power of innovation and of experience.
Expertise.
​UNITEC Technology treats your fruit as a unique product.
With care and gentleness, to guarantee quality consistency for your Customers. On all types of kiwifruit. For every level of business.
UNITEC selects the quality of the different varieties with extreme accuracy, to guarantee your business the success it deserves.
Performance.
​UNITEC Technology does a great deal for the kiwifruit business. And it does it very well.
Automation.
With UNITEC's automation, the need for manual selection is significantly reduced. Quality selection, sorting, weighing and packaging can become a single process.
New parameters for quality selection.
UNITEC allows you to select external and internal kiwifruit quality according to new parameters. To face the market with higher profitability.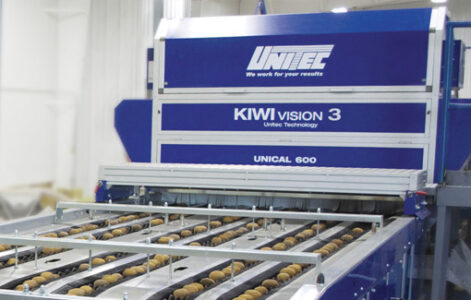 Exceptionally accurate weight detection.
UNITEC guarantees the maximum precision in detecting the weight of your packages, through innovative and high-performance Technology to guarantee better Results to your business.
​
Without limits on your business.
Whether you choose to process kiwifruit with pre-sizing or with direct packaging, and whether your production is high or low, UNITEC is the partner that allows you to obtain the best performance with maximum profitability.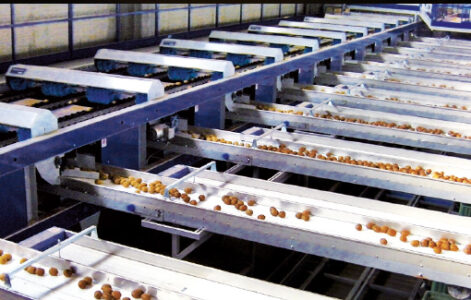 Innovation
​Kiwi Vision 3 and UNIQ Kiwi are the exclusive UNITEC Technologies for the external and internal quality selection of kiwifruit.
UNITEC Technologies select the quality of many kiwifruit varieties with extreme precision. Carefully and gently. For each variety of kiwifruit.
To guarantee consistent Quality over time. For you and your Customers.
To ensure your business the success it deserves.
Gentleness.
The fruit is handled extremely gently and preserving its characteristics.
Versatility.
The same machine can also work other fruits of rounded shape.
​
Flexibility.
​Simple, independent calibration of quality selection parameters.
Traceability.
​Tracks all the required information to track the different handling batches.
High productivity.
UNITEC lines allows handling with very high degrees of filling, thus ensuring high production.
Saving on personnel costs.
With the high level of UNITEC automation the help of manual selection is significantly reduced.
100% UNITEC.
From dumping to traceability, the lines are completely designed and manufactured by the UNITEC Team.
This is a unique guarantee of reliability.
Discover UNITEC solutions.
Get in touch with us.