Sorting, grading and processing machines and equipment for Cherry Tomatoes.
With Unitec technology and innovation, your business bears delicious vegetables.
We set ourselves the goal of significantly improving the various processing stages of this very delicate product through our technology.
Our grading and packing plants employ ultra-gentle technology to preserve the cherry tomatoes perfectly intact, and this is one of the key factors behind the success enjoyed by our customers, as it allows them to export a quality product to even the most demanding markets.
The use of UNICAL 200 cherry ultra-high capacity electronic sorters and of the CHERRY TOMATO VISION 3 Unitec Technology system enables perfect precision sorting of cherry tomatoes based on size, colour and defects.
This machine has been developed entirely in-house at Unitec, from mechanical and electronic parts to the electrics and all the software. Thanks to these innovative equipment and lines for cherry tomatoes processing, we can guarantee non-destructive detection of the internal and external quality of the cherry tomatoes. Sorting and quality selection stages handle every single product with the utmost gentleness, without causing any damage to the quality of the skin or the pulp.
We guarantee optimum colour selection, which enables our customers to satisfy even the most exacting market demands regarding quality. In addition, the precision sorting guaranteed by our graders allows customers to offer the large-scale retail channel or final consumers a product which is particularly appealing to the eye.
For quality selection, we designed and developed CHERRY TOMATO VISION 3 Unitec Technology, the new high-capacity non-destructive system for detection of cherry tomatoes quality, which carries out selection based on a number of parameters including external quality, shape defects, in addition to optical size and color.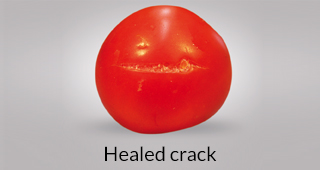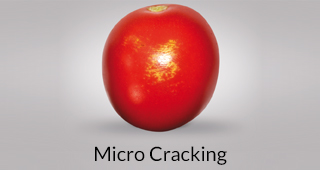 The CHERRY TOMATO VISION 3 Unitec Technology system can be customized for any fruit & vegetable processing plant to suit the different product and market requirements. This new technology significantly reduces the labor-intensive task of manually selecting defects on these small fruits and enables valuable savings in processing costs. Cherry tomato processing companies can significantly improve their quality selection process and increase their profitability on the market by a standard of quality in processing and selection that was previously inconceivable.
Quality materials.
All our cherry tomato sorting plants are constructed entirely of AISI 304 stainless steel.
Plant versatility.
Our company is characterized by a willingness to overcome the limitations of standardized plants. At Unitec we customize our systems, machines and solutions to the specific needs of each and every fruit & vegetable processing plant. We firmly believe that plants must be designed specifically to fulfill their maximum potential in their appointed installation environment.
Reliability.
Because of the extremely short cherry tomato processing season and the intense nature of this processing, reliability is top-priority. For us, reliability means also creating tangible improvements for customers thanks to the use of our technologies.
Capacity.
Thanks to the fruit alignment system (PATENTED) we are also able to offer an extremely high percentage of filled spacings in our sorters, guaranteeing excellent production output in terms of tons/hour/line. In addition, there is the option of selecting the speed at which the sorting system automatically selects all the parameters of quality, size, colour and internal and external defects in cherry tomatoes.
Discover Unitec solutions.
Get in touch with us.