Processing, sorting and grading machines for Peppers.
With Unitec technology and innovation, your business bears delicious vegetables.
This particular vegetable is offered to the market in many different varieties and also in a wide range of irregular shapes. We work to meet pepper processing requirements with customized technologies designed to suit the shape of the product. Together with our customers, we set ourselves two objectives in particular: precision sorting based on size and, when necessary, good colour selection.
Innovation.
Pepper processing with electronic sorting has enabled uniform selection of colour and accurate grading based on the size of the product. With our UNI ONE LF jolly system we can offer a response to the many different requirements of those who produce and sell this vegetable.
Versatility.
Lines constructed for pepper processing, from emptying of crates or bins to brushing, washing, sorting, colour selection and packing, can also be utilized to process several varieties of tomato and other sub-spherical shaped product.
This solution reduces the time required to return the initial investment in this technology.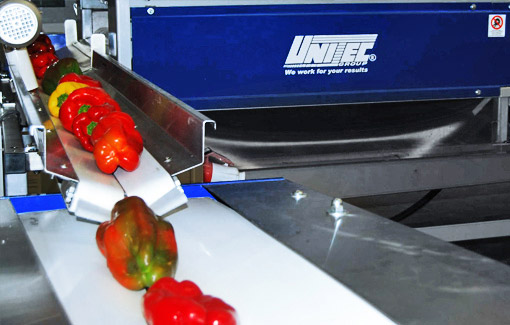 Discover Unitec solutions.
Get in touch with us.