Processing, sorting, grading and packing machines, plants and lines for Peaches and Nectarines.
We select the quality with extreme gentleness to help expand your business.
New markets.
Unitec's innovative technology helps to recognize the goodness of peaches.
It identifies the best, selects it and classifies it. Opening up a new way to look at the market. In addition, Unitec sorting machines, equipment and lines for Peaches and Nectarines processing handle your precious fruit with gentleness and respect. Unitec knows that the best fruit, with exactly the right hardness and sugar content, can reach more profitable markets even away from the area of production.
Innovation
Unitec grading and packing plants are equipped with the innovative PEACH VISION 3 Unitec Technology.
PEACH VISION 3 Unitec Technology is Unitec exclusive technology for the detection of the internal and external quality of peaches, flat peaches and nectarines. It enables to detect: size, color, internal defects, external defects, degree of hardness and Brix degree. That is, it allows quality assurance.
Unitec exclusive patents.
Patented sorting systems for internal and external quality, size, weight and appearance.
Exclusive quality selection.
Vision as never before.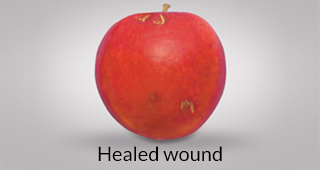 High technology.
Unitec technology does a great deal for the peach, flat peach and nectarine business.
And it does it very well.
Gentleness.
The fruit is processed noninvasively and respecting its characteristics.
Flexibility.
Simple, independent calibration of quality selection parameters.
Versatility.
Great versatility with multi-analytical technology.
High productivity.
A Unitec system with PEACH VISION 3 allows you to work up to 14 fruits per second.
Traceability.
It records the required information for the purpose of traceability.
100%.Unitec.
Unitec is always at your side.
We work with you to develop the most efficient projects to make your business even more profitable. Based on this successful experience and its renowned innovative technology, Unitec designs and manufactures complete processing lines covering all stages from dumping to palletising. Always with Unitec quality.
Reliability.
A Unitec trademark. The installation of each Unitec system is in full compliance with the conformities and of your business, present and future.
Leader.
Many of the world's peach growers have chosen Unitec quality, innovation and technology. Here are some examples.

Love.
Unitec takes loving care of your business.
Unitec develops new winning ideas together with you. That is, it works to make the achievement of your goals concrete.
To grow your business and grow together with you.
You can count on us, whether you are market leader or, simply, entrepreneurs looking to the future.
Discover Unitec solutions.
Get in touch with us.